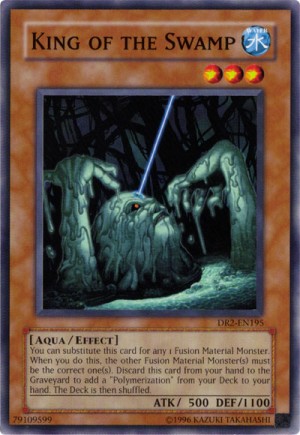 | | |
| --- | --- |
| Name | King of the Swamp |
| Attribute | WATER |
| Level | 3 |
| Type | Aqua/Effect |
| Description | You can substitute this card for any 1 Fusion-Material Monster. When you do this, the other Fusion-Material Monster(s) must be the correct one(s). Discard this card from your hand to the Graveyard to add a "Polymerization" Spell Card from your Deck to your hand. The Deck is then shuffled. |
| ATK/DEF | 500/1100 |
| Set | AST-082 |
| Rarity | Rare |
| Condition | Heavily Used |
| More Details | The card is a little worn out, and the edges are frayed, along with a bent corner, some minor bends, and one bend that starts at about the middle of the right side of the card, then comes down to about the middle of the bottom. It's actually not as bad as it sounds, but the prices for both shipping and the card itself are somewhat negotiable. Shipping reduced to $0.10. |
| Price | $4.85 |
Ad blocker interference detected!
Wikia is a free-to-use site that makes money from advertising. We have a modified experience for viewers using ad blockers

Wikia is not accessible if you've made further modifications. Remove the custom ad blocker rule(s) and the page will load as expected.